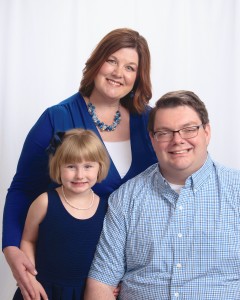 A native of Springfield, Tony DelGiorno is the only child of Joseph and the late Shirley DelGiorno. His family lived in a three-room house in the Bunn Park area. Due to layoffs, lack of adequate employment, and health concerns, Tony's family struggled and had to rely on public assistance through much of his childhood.
Despite these obstacles, his parents volunteered to work off tuition for his Catholic elementary education at Little Flower School. When attending Ursuline Academy, Tony paid for tuition himself by working for the convent.
Earning grants and scholarships, Tony was able to put himself through college in 3 years at Illinois College in Jacksonville where he earned his bachelor's degree magna cum laude studying political science, history and international studies. He served as co-editor of the student newspaper, The Rambler, and the student-produced political journal.
With the aid of student loans, Tony earned his law degree in 2002 from the Washington College of Law at American University in Washington, D.C. During law school, Tony served as president of the Law and Government Society and as a legal intern with the U.S. Senate Democratic Steering & Coordination Committee where he assisted in elder law social issues. He also practiced as a student attorney in the Low-Income Taxpayer Clinic assisting individuals under audit or collection from the Internal Revenue Service (IRS).
Tony practiced as an attorney for the IRS Office of Chief Counsel in Washington, D.C. before returning to Springfield to join Rammelkamp Bradney Law Firm in 2003, where he became a partner in the firm in January 2010. Tony devotes his practice primarily to elder law as a result of his father needing care in a nursing home. Tony also works with rural water cooperative systems to build water lines to rural areas that rely on well water that is oftentimes contaminated.
Tony was first elected to the Sangamon County Board in November 2012 after defeating a long time incumbent. Tony has served on the following standing committees for the Board:
• Building and Grounds
• Court Services
• Emergency Management/911
• Employee Services
• Jail Oversight
He has also served on ad hoc committees, including the review of and recommendation to submit a referendum question to the voters asking to extend the life of the Sangamon County Citizens' Efficiency Commission, which was passed in the March 2014 primary election.
Tony has worked in his committees and at the board level advocating for greater transparency, especially on budget issues. He advocated for the creation of a sick leave pool for county employees who have catastrophic illnesses. Tony recruited a physician to fill a two-year-old vacancy on the Board of Health that oversees the management of the Public Health Department. In May 2014, Tony was appointed by the County Board to serve on the Sangamon-Menard-Logan County Extension Board that oversees the University of Illinois Extension Office and its programs promoting local agriculture.
Tony's community and professional involvement includes serving as a member of the Illinois State Bar Association for which he was appointed to the Elder Law Section Council and, from 2007 to 2011, served as editor of the Council's newsletter. He is also a frequent contributor to the Senior News and Times of Central Illinois writing about various legal issues of concern to the region's senior population. In 2011, Tony began a two-year term on the Illinois Long Term Care Council following appointment by the Director of the Department on Aging. The Council is mandated by law to advise on issues pertaining to quality of life for Illinois seniors in long-term care facilities.
In 2013, Illinois College alumni elected Tony to serve on the Alumni Association Board of Directors.
Tony has served as general counsel for the Ursuline Academy Alumni Foundation, which he co-founded in 2007 in an effort to keep the high school open. Tony and his wife, Nichol, are members of Blessed Sacrament Parish. They are the proud parents of Sophia, who was born in November 2010.